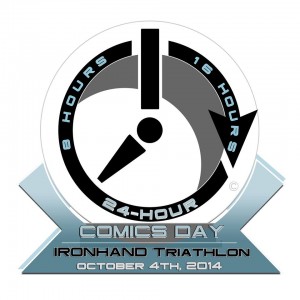 24-Hour Comics Day – The IRONHAND Triathlon: 
ComicsPRO staff is going to be at the Alternative Press Expo on October 4th helping Blitz Comics run a 24HCD event.
The event is called the IRONHAND 24HCD Triathlon.   We are setting up at Tables 1049-1052 from 11:00AM-7:00PM. Artists, writers, and curiosity seekers are invited to participate in this brand new evolution of the original 24-Hour Comics Day Challenge www.24hourcomicsday.com, which is a world-wide, yearly event with a simple goal: Create a 24 page comic in 24 consecutive hours.  
The 24HCD – IRONHAND Triathlon breaks the 24 hours into 3 separate shifts. After each shift the artist can earn 1/3 of the special "Finishers Award". When an artist completes 8 hours they earn and keep the "8 hour" piece. When they complete 16 hours, they earn and keep the "16 hour" piece. Then finally, at 24 hours, they receive the final piece and complete their award and the challenge!
If you are interested in joining us, please email contact@blitzcomics.com.  You are also welcome to join in even if you only want to draw for a short amount of time or if you want to find out more about the event.   Sponsored by ComicsPRO, the Trade Organization for Comic Book Retailers and Blitz Comics.  (Note:  The first eight hours will be at APE, the remaining 16 hours will be offsite).