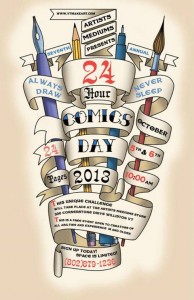 We have returned to our roots: Artists' Mediums at 300 Cornerstone Drive, in the more "pastoral" part of Williston, VT.  And there's still room for a few more artists!  Artists of all abilities welcome, visit our info page for more details.  Call (802) 879-1236 or (800) 255-1290 to sign up.
24 Hour Comics Day also overlaps with Vermont's Fall Open Studio tour, which the four of us employees at Artists' Mediums are also participating in.  Therefore, a weekend full of art, art, art.
We'll be open for 31 hours, from 10 a.m. Saturday the 5th through 5 p.m. Sunday the 6th.
There's a raffle for participants, as well as tasty snacks provided by local shops. Plus, we're having a nice BIG stock-up supply sale at the store all weekend long.